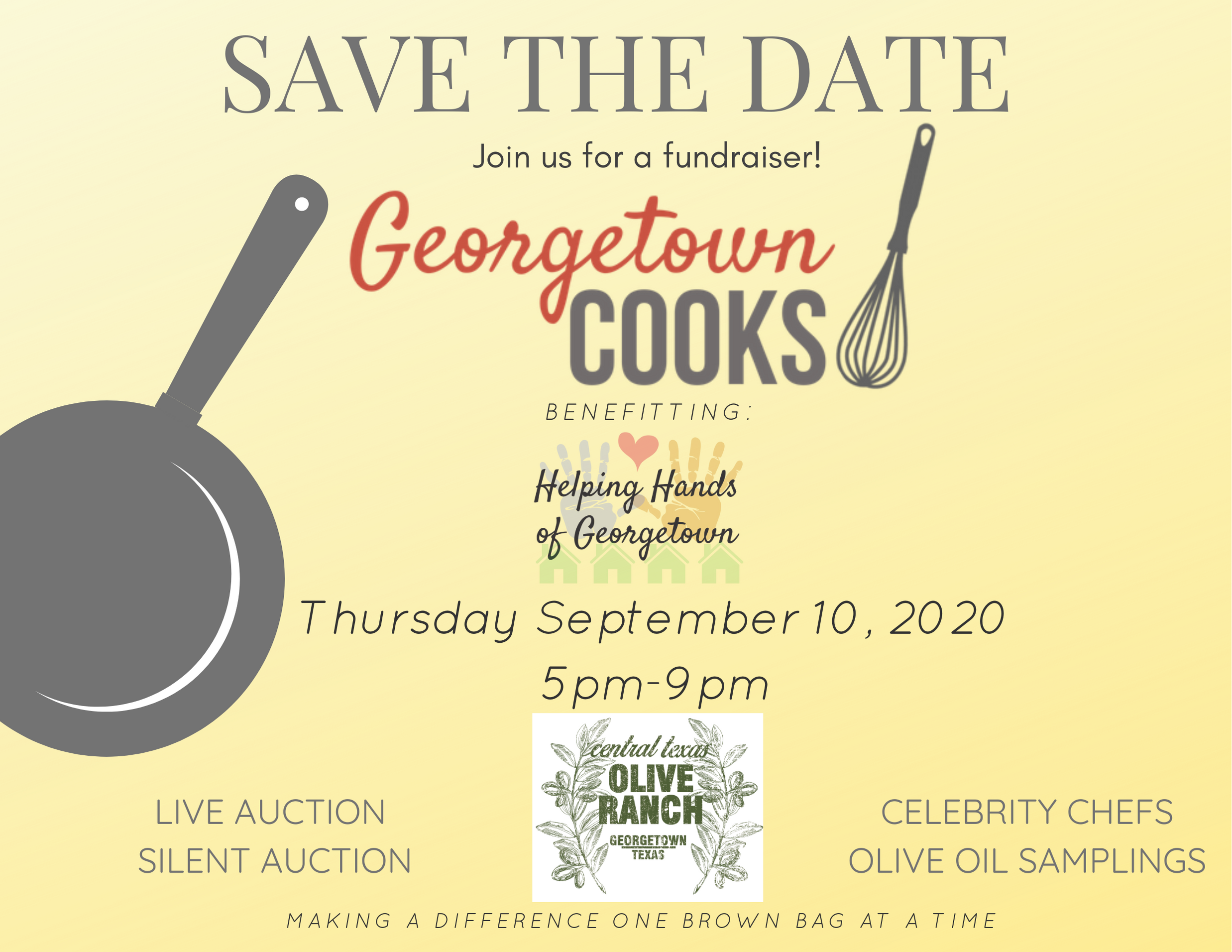 On Thursday, September 10, 2020, Helping Hands of Georgetown will be celebrating its second annual fundraiser, Georgetown Cooks!. You are cordially invited to be a part of what promises to be an amazing evening.
The doors will open at 5pm with hors d'oeuvres distributed by our "Celebrity Chefs", there to defend their titles. Will there be a trophy this year? Who will the trophy go to?
There will, of course, be a bar and lots of time to bid on silent auction items. The dinner will be served around 6pm and the live auction will follow.
Our mission and vision show that we are dedicated to serving the underserved in our Community. We hope to use this fundraiser as a way to propel us forward AND continue to get the word out.
We will a wonderful dinner by Fiore Catering & Events and Chef Vincent bringing you dishes all made with the amazing local olive oil of Central Texas Olive Ranch. We will also have great musical well as a Silent and Live Auctions to end the night out right!
And the HIGHLIGHT… Our "Celebrity" Chefs will be serving amazing hors d'oeuvres and offering a fun show for you before the dinner and auction begin.
We are so excited to have our "chefs" back again this year:
Think you might like to sponsor this event? Here's how…
General admission tickets will be sold online for $100 each and will include a sit-down dinner and access to our silent and live auction. They will be available by August 1st. We expect a sold-out event and plan to continue this tradition of pouring money right back into our community. This will be a night of fun and friendly banter and we truly enjoy calling each one of our sponsors and attendees' part of our family.